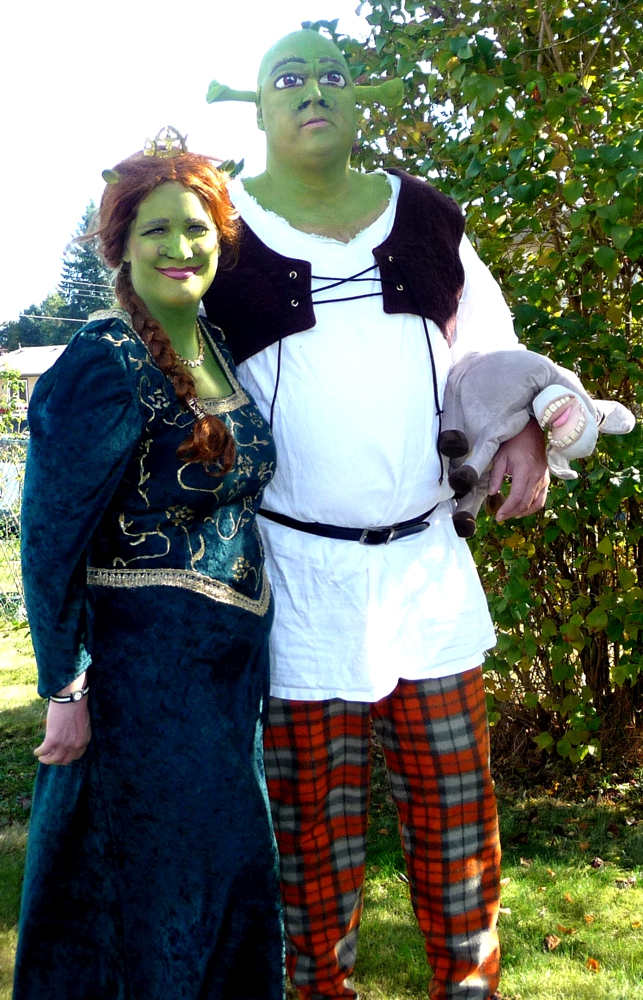 On our 11th anniversary, we went to our first ever Comic-Con. It took some manipulating, but I got my wonderful hubbie to put on the Shrek outfit I made him several years ago and I transformed into Fiona for the day.
To give you a little perspective, I'm 5'10" and my husband is 6'10" and I'm pretty sure the writer's of Shrek must have been fans of him back in his football days. There are too many similarities to just be coincidence. I don't really fit the superhero body type, but I thought Shrek and Fiona would be a fun addition to Vancouver's Mega Comic-Con.
We'd arrived at the hotel hosting the event, and before we even got out of the underground parking, the security guard was wanting photos with us. He was a tall man and probably not had too many folks look down on him before. We made our way to the lobby where some Calgary Stampeders were assembled getting ready to play football against the BC Lions that evening. They saw Ray and wanted photos with him too. I went in search of a restroom and was followed by more fans that wanted photos with me too. And that's how it was the entire time we were there. We should have charged a $1 a photo. We would have made a lot of money!
Ray's highlight was getting to visit with the wrestler 'Honkeytonkman'. He actually did charge for photos, which we did so Ray could have a record of meeting one of his favourite wrestlers from back in the day.